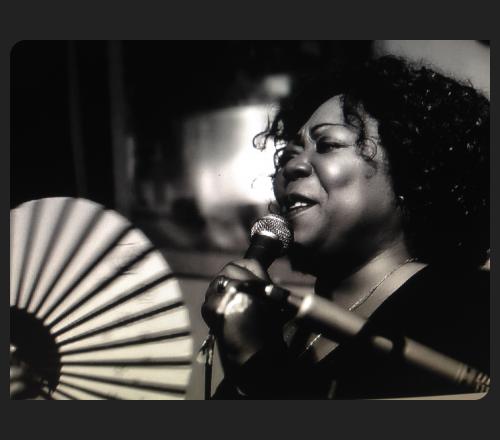 GÜRTEL NIGHTWEEK (Fr. 11. bis Sa. 19.9.)
Eintritt:
Eintritt frei – gefördert vom Wiener Kulturservice
Betty Semper
Soul, Blues, Jazz, Gospel and just about whatever takes her fancy
Betty Semper is proud to say that for many years, she has had the pleasure to have worked with many of the greats including the great African band Osibisa with Tania Evans, former lead singer of Culture Beat, Gloria Gaynor (Also at the Art on Ice Show in Switzerland 2002), The Sweet Inspirations, Supermax, Joachim Palden, Hallucination Company, Stan The Man Bohemian Blues Band, Hans Salomon to name but a few. She also had the pleasure of working with Nadine Beiler who sang for Austria in the 2011 Eurovision Song Contest.
She has been working at the Vienna Music Institute as a vocal coach for a number of years. A member of Radio Superfly Radio Orchestra. A member of The Dancing Stars Orchestra as well as many band and big band formations singing Soul, Blues, Jazz, Gospel and just about whatever takes her fancy.
Over the years, Betty has also worked in these places: Antalya, Australia, Austria, Azerbaijan, Bulgaria, Colorado, Croatia, Czech Republic, England, Germany, Greek Islands, Holland, Hungary, Istanbul, Italy, Poland, Russia, Spanish Islands, Sweden and Switzerland.
The journey continues for your enjoyment.
Betty Semper lebt und arbeitet seit einigen Jahren in Wien und zählt mittlerweile zu den besten und authentischsten Blues-, Soul- und Gospel-Sängerinnen dieses Landes. Geboren in Antigua und aufgewachsen in London wurde sie früh vom musikalischen Umfeld ihrer Mutter, einer Gospel-Sängerin, geprägt. Durch ihre Auftritte in Londoner Jazz- und Music-Clubs sowie bei verschiedenen großen Jazz-Festivals machte sie sich schnell einen Namen und arbeitete schon bald darauf mit Musikern wie z.B. Eric Clapton oder Tanja Evans von Culture Beat zusammen. Nach ihrer Übersiedlung nach Österreich tourte sie beispielsweise mit Supermax durch Russland und Bulgarien, begleitete Ze Express auf ihrer Deutschland-Tour oder machte mit ihrem Hit "I've got to run" auf sich aufmerksam. Die ganze Bandbreite ihres Könnens reicht von Balladen über Soul-Funk bis hin zu Dance Floor. Neben vielen eigenen Songs interpretiert sie aber auch auch immer wieder bekannte Hits wie "Smooth" (Carlos Santana), "If you don't know me by now" (Simply Red), "We are family" (Sister Sledge) oder "Streetlife" auf ihre eigene und unverwechselbare Art.
Zusammenarbeit: Betty Semper arbeitete u.a. mit Mike Ottis, Supermax, Gloria Gaynor, Chris DeBurgh, Osibisa, Eric Clapton, Ostbahn Kurti, Lutricia McNeal, Wolfgang Ambros, Boris Bukowski, FM4 Favourites, Cay Taylan, DJ Shalom (u.a. mit Alex 'Drums' Deutsch), Karl Moestl, The Peoples Choice, DJ's Delight, Soul Star, Gospel meets Vienna, Vibe & Betty S., The Broadway Big Band, Jazz Klisiv, Stan The Man Bohemian Blues Band u.v.a. Tourneen und Konzerte u.a. in Azerbaidzhan, Australia, Bulgaria, England, Germany, Greece, Holland, North America, Poland, Russia, Spain, Sweden, Turkey...
Betty Semper – voc
DJ Anando Nao